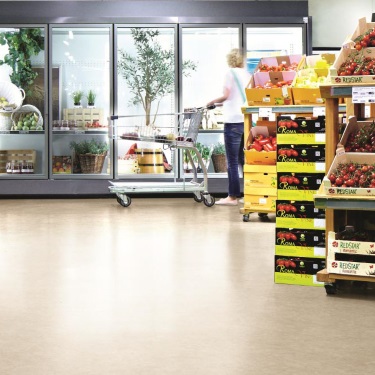 Forbo has created a unique product offer, which complies with all relevant safety flooring standards.
Download  Forbo's complete guide to Safety Flooring
AS4586:2013 Compliance – Wet Pendulum test ≥36
All Step floors are tested using the TRRL Pendulum test, the preferred test method which is used to assess the slip resistance of a floor surface. Floors can be tested with different rubber sliders to assess either footwear or barefoot use. Using this test, a Pendulum test value (PTV) of 36 or higher is considered to offer a low slip risk.
Surestep and Safestep R11 and R12 products offer Wet Pendulum test values of ≥36 for footwear applications. In addition, Surestep Laguna and Safestep Aqua offer Wet Pendulum test values of ≥36 for barefoot use areas.
EN 13845
Forbo Step complies with EN 13845 (sustainable slip resistance) due to the use of slip resistant particles throughout the wear layer of the product. This standard specifies the requirements that must be met to ensure durable slip resistance throughout the guaranteed life of the product.
"R" scale
Floors are often evaluated for slip resistance by using the "R" scale, which is linked to the DIN 51130 and AS4586:2013 standard. In simple terms, the angle of a ramp covered with the floor covering and lubricated with oil is increased until the person walking down it slips. The tested floor covering is given an "R" rating based on the angle at which the tester slips. The scale starts at R9 (the lowest slip resistance class) and runs to R13 (the highest slip resistance class). Step products offer classifications from R10 to R12, a comprehensive range of products.
Barefoot areas
For products used in barefoot areas, DIN 51097 applies. The test method is similar to the oil ramp test, but for this test, the surface is covered with a 'soap and water' solution which is more relevant to barefoot applications. The Step range offers unique solutions up to the highest class in barefoot safety performance.
By choosing the correct Step safety flooring for the relevant application, the potential for accidents caused by slipping can be reduced significantly.